by Amy J.C. Cuddy, Matthew Kohut, and John Neffinger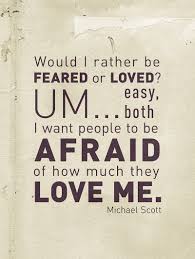 Most leaders today tend to emphasize their strength, competence, and credentials in the workplace, but that is exactly the wrong approach. Leaders who project strength before establishing trust run the risk of eliciting fear, and along with it a host of dysfunctional behaviors. Fear can undermine cognitive potential, creativity, and problem solving, and cause employees to get stuck and even disengage. It's a "hot" emotion, with long-lasting effects. It burns into our memory in a way that cooler emotions don't. Research by Jack Zenger and Joseph Folkman drives this point home: In a study of 51,836 leaders, only 27 of them were rated in the bottom quartile in terms of likability and in the top quartile in terms of overall leadership effectiveness—in other words, the chances that a manager who is strongly disliked will be considered a good leader are only about one in 2,000.
A growing body of research suggests that the way to influence—and to lead—is to begin with warmth. Warmth is the conduit of influence: It facilitates trust and the communication and absorption of ideas. Even a few small nonverbal signals—a nod, a smile, an open gesture—can show people that you're pleased to be in their company and attentive to their concerns. Prioritizing warmth helps you connect immediately with those around you, demonstrating that you hear them, understand them, and can be trusted by them.
When we judge others—especially our leaders—we look first at two characteristics: how lovable they are (their warmth, communion, or trustworthiness) and how fearsome they are (their strength, agency, or competence). Although there is some disagreement about the proper labels for the traits, researchers agree that they are the two primary dimensions of social judgment.
Why are these traits so important? Because they answer two critical questions: "What are this person's intentions toward me?" and "Is he or she capable of acting on those intentions?" 
When Strength Comes First
Most of us work hard to demonstrate our competence. We want to see ourselves as strong—and want others to see us the same way. We focus on warding off challenges to our strength and providing abundant evidence of competence. We feel compelled to demonstrate that we're up to the job, by striving to present the most innovative ideas in meetings, being the first to tackle a challenge, and working the longest hours. We're sure of our own intentions and thus don't feel the need to prove that we're trustworthy—despite the fact that evidence of trustworthiness is the first thing we look for in others.
When Warmth Comes First 
Although most of us strive to demonstrate our strength, warmth contributes significantly more to others' evaluations of us—and it's judged before competence.  Behavioral economists, for their part, have shown that judgments of trustworthiness generally lead to significantly higher economic gains.  In management settings, trust increases information sharing, openness, fluidity, and cooperation. If coworkers can be trusted to do the right thing and live up to their commitments, planning, coordination, and execution are much easier. Trust also facilitates the exchange and acceptance of ideas—it allows people to hear others' message—and boosts the quantity and quality of the ideas that are produced within an organization. Most important, trust provides the opportunity to change people's attitudes and beliefs, not just their outward behavior. That's the sweet spot when it comes to influence and the ability to get people to fully accept your message.
The Happy Warrior
The best way to gain influence is to combine warmth and strength—as difficult as Machiavelli says that may be to do. The traits can actually be mutually reinforcing: Feeling a sense of personal strength helps us to be more open, less threatened, and less threatening in stressful situations. When we feel confident and calm, we project authenticity and warmth.